Moffat's guide to creating a companion
Moffat: You know, instead of a companion I only kill every other episode, I'll create one that's killed in EVERY EPISODE.
Clara: ...
Rory: We've a support group, you know. T-shirts and everything.
"I never knew her name… her full name."
" Yes, that's right, you're going. You've been gone for ages. You're already gone. You're still here. You've just arrived. I haven't even met you yet. It all depends on who you are and how you look at it. Strange business, time."

also, if you actually think about it, the doctor can't go back to that Amelia because he reset the universe in the Big Bang, and she has parents now…moffat what did you just write?!!???

My sister and I have come to the conclusion that trying to understand time in Doctor Who (or at least in Eleven's run) is pointless. We just nod and smile.
Rory has obviously never been on tumblr…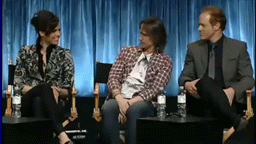 Doctor Who: 'The Angels Take Manhattan' teaser two - Series 7 2012 Episode 5

SPOILERS: The three friends share a carefree moment in New York. What could possibly go wrong?
Doctor Who: 'The Angels Take Manhattan' teaser - Series 7 2012 Episode 5

SPOILERS: "A lone figure in the night visits the place 'where the statues live'."
Amy.

From this Saturday's Fall season finale of Doctor Who, "The Angels Take Manhattan"
This is going to be hard to watch, I just know it is going to be so hard.
#DONE.

…with the livetumblring for the day.

Which is good because we're going to need a whole week to get ready for next Saturday.

The mid-season finale of Doctor Who.

The Angels Take Manhattan. (Watch the preview trailer here.)

We hope that everyone joins us for that one. Because it's the farewell to The Ponds, the longest running companions on the longest running sci fi show on television. It's going to be…. well. We're going to need you here for this. Because we think we're going to need a big Whovian hug through our dashboard at the end of the evening.

btw, do you want to know why we love sitting here reblogging, refreshing our dashboard and tags, while watching the show with you? Because you get it. You totally get it.  You catch all the references and the jokes and the parallels, and sometimes you take it farther and deeper than the writers have the opportunity to themselves.

It's the kind of stuff the writers and actors and production team, and showrunners love seeing because it's the kind of thing they love to create and they hope — they just hope — that someone out there gets it. And here on Tumblr there's a whole community who just gets it.

We stay up for hours on Saturdays, from early morning to late at night, to do this, not just because we're fans of the show but because we're fans of you.

You are the smartest, awesomest, most good looking fandom in the world.

And you make this show so much fun to watch.

So thanks for that.

-doctorwho.tumblr.com
Y'all are awesome. I am going to have my tissues ready next Sat. This blog just rocks, is so good. Thank you.